Courage has been working hard for almost a year to build out boat – a 58 foot catamaran named Lil' Explorers. We just put her in the ocean Jan 24th, 2013 and are completing work on the interior, mast, sails, trampolines, lifelines, etc.
Courage lived on a boat from the ages of 2 to 9. That boat burned and they moved to shore. He again lived on a trimaran as did 2 other brothers during their college years at UC Santa Barbara. He graduated as a mechanical engineer and worked at Proctor and Gamble in management, then pursued the seas again. He bought a partially completed boat and finished it off, then living aboard and giving charters. After selling this boat, he took a job in management at Dreyer's ice cream plant in Bakersfield.
At home at the helm
In Bakersfield, he met Shannon. After a few years at Dryers and after their first son was born, he left Dryers to work from home as a real estate professional. He worked as a broker, appraiser and property management. He left these positions in August 2012 to work full time on building the boat.
We now have 6 children and a beautiful boat and no jobs to tie us down!!
Shannon grew up in Ridgecrest, CA, same house all 18 years. When she graduated from high school she moved up to Mammoth and became a ski instructor, the Woolly mascot, and ski patrol. She spent one summer living in a tent on 6 acres up in Oregon, another as a rafting guide, another as a waitress in Red's Meadow (small area behind Mammoth). One fall season was also spent waiting tables at Old Faithful Inn in Yellowstone.
She them moved to Denver to pursue college. After college she moved to LA to go to medical school at USC. She then did her intern year in Phoenix, AZ, then moved to Bakersfield, CA for her Emergency Medicine residency. She was a partner in a group in Bakersfield until February 2012, stepped down, but working some still until she went on maternity leave in July 2012, after which she worked very part time in Bakersfield and Ventura until the boat launch.
She has enjoyed traveling throughout her life including to Europe with her family in 1986 and Hawaii 1989, New Zealand and Australia with her high school soccer team in 1990. Around 1999 she took an anthropology class in Nepal for 4 weeks (a legitimate excuse to travel) with a return 6 week trip with a medical mission a year later. In medical school she attended the International medicine conference in Costa Rica. Courage and Shannon honeymooned in the South Pacific, specifically chosen since it was someplace neither had been before. She has limited sailing experience, but let the games begin!!
We have 6 children and have been homeschooling for 3 years. Definitely with challenges, but also with extensive benefits.
Cassidy
September 18, 1998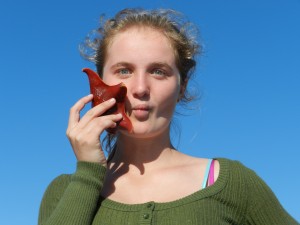 Star Fishlips
Cassidy is 14 years old and a freshman in high school. She grew up most of her life in Bakersfield, CA, but has had much opportunity to travel. She is a very outgoing and active person. She loves hanging out with friends, skiing, sailing, rafting, camping, quadding and adventuring. She is the designated skipper and navigator for this journey.
Bringing us into Channel Islands Harbor, CA
She is a very capable young lady and learning daily. She is helpful from scaling the mast to bailing the bilges, dropping anchor, steering and navigating, as well as cooking. She is fully functional in that she can start the boat, pull up the anchor, and take the boat to a destination. She is also heading up our electrical system to make sure that we charge as needed, don't overdraw, and have power for our necessities (and comforts). Although she's not quite ready for a solo circumnavigation – I anticipate after this trip she'll probably be able.
Docking us
She would like to sail to distant places and eventually visit all 7 continents in her lifetime. She is excited to learn different cultures and maybe even absorb some languages. She would like to become a flight attendant in the future.
Paddle boarding - life is good
Newport Harbor visitor
Intrepid was born and raised in Bakersfield, but adventured with the family rafting, skiing, visiting family in Oregon, and a few trips to Cabo, Mexico. He is a sweet and endearing
Exploring caves at Santa Cruz Islands, CA
Jumping on the trampolines
kid. He is sensitive and friendly. We often find him having joined another family while we're at the park or other outings, just chatting with them about whatever he is thinking of currently. He is smart and a problem solver, but not much of one for traditional academics – i.e. sitting and writing and repetitious facts. He loves the freedom of homeschooling.
Integrity
January 5, 2007
With Intrepid
We refer to Integrity as our "Calvin" from Calvin and Hobbes. He's creative, imaginative, adventurous, and loves to push limits. He loves to make things happen and try new things. He likes to build and see results – like puzzles and blocks, etc.
He likes his occasional quiet time and place for just him and his thoughts. We call this his "Teggy Time" and try to give him his space. He often becomes a favorite of people because of his sincere nature and playful attitude.
Playing pirates
Innocence is our little "Treasure". She is a sweetheart and definitely a girl. She loves to sing and pet and hold animals. She has a row of stuffed animals and dolls all nicely tucked into her bed. She is curious and thoughtful and loves dressing up and feeling pretty.
Practicing rowing the dinghy
(note the dress under the lifejacket)
Despite her girly side, she is adventurous and tough enough to keep up with her 2 older brothers. She's a go getter. She wanted to be the "big guy" who gets to row the dinghy to shore, but was told she needed to practice, so as soon as we anchored, off she went into the dinghy to do laps around the boat. She is very articulate and confident in her goals.



Swinging high on the halliard
On the bow ladder watching dolphins - with Intrepid.
Vitality



Vitality is a beautiful and adventurous sole. She takes after Integrity where she tries things, then figures out the consequences as they come. Not a lot of wasted time on planning things. She's ever busy and ever mischievous. She tries to keep up with the big guys and for the most part does.


Swinging, a simple childhood pleasure
Great dolphin watching from the pulpit seat
The pulpit seat, her favorite place!
She loves riding the pulpit and seeing any animals!! She loves to hold jellyfish, pet dogs/cats, hold rolly-pollies, or really any creature. Another confident young lady who has no issue exerting herself as needed. She is truly vibrant, loving, and such a pleasure to have around!
Valiant
Valiant is one of the happiest crew members we've got!! Such a sweet, happy, smiley baby. He's now lived a quarter of his life on the water and based on that experience is one of our most experienced captains! He loves all the activity and anything with motion. Really enjoys his siblings giving him attention. Also a big fan of ropes and wires. We're thinking a wenchman may be his thing.